Lean Too Carports
Lean Too Carports
A metal lean too carport could be the ideal addition to your home if you're finally discontented with having to park your car on the side of the street, in a parking lot, or in the driveway. Having this type of carport is extremely cost-efficient and easy to use.
What Are Lean Too Carports?
Lean too carports have several functions and provide homeowners with a whole host of benefits. As the name suggests, lean too carports quite literally lean against a stable wall of another building. The wall can be the wall of a garden house, the wall of the dwelling house, or the wall of outbuildings like sheds or storage sheds. A lean too carport typically consists of a single slope roof connected to another larger structure or building along the highest point. There are various alternatives and options to customize the carports, whether it's the shape, size, or layout of the building. Usually, you will have the option to fully customize your carports however you like before you place your order unless you decide to purchase a pre-assembled structure. Some of these carports can be far and wide, while others can be long and narrow for storing equipment and tools. It's very possible to cover a considerable amount of space with a simple leaning design with an exposed roof, which can reach 24 feet in width without the use of center row supports.
Benefits of Lean Too Carports
Protect Your Vehicles

– If you've been parking your car along the street or in the driveway, you will appreciate what the lean too carport can do to protect your vehicles from the natural elements. The lean too carport's slanted roof can help to direct any hail, rain, tree debris, or snow away from your parked car, providing shelter for your hefty investments.

Cost-efficient

– The price of a lean too carport can vary depending on its planned usage and size. However, these structures provide an extremely good value for their price point if you were to compare it to the cost of a garage. You will see the monetary savings over the short and long-term. Additionally, the structure is easy to maintain, sturdy and weather-resistant.
Complete Flexibiltiy – The lean too carport is immensely versatile. Depending on the size and shape, you can convert them into a variety of other buildings, including storage for heavy equipment, hand tools, a livestock shelter for chickens, covered dry space for firewood, or even a metal garage with sufficient storage for tools and repair parts.
Why Choose Behrs Buildings' Lean Too Carports?
If you are interested in constructing your own carport, garage, or storage sheds, Behrs Buildings should be your ideal choice. We are committed to ensuring the shortest lead times for our clients to enjoy their buildings earlier. To cater to any of your specific requirements, we have a Design Your Own Building feature available on our website.
For more information on our lean too carports or to place an order, feel free to
contact us
today.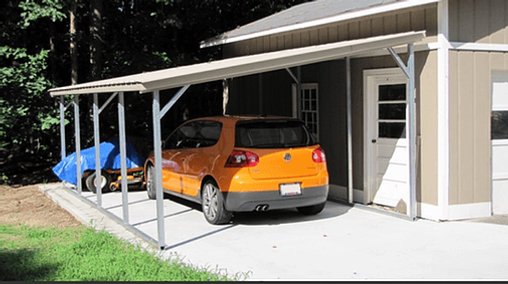 #17 12x21 Lean Too Carport
$2,230 plus tax
Rent To Own Pricing
(RTO Fees Do Apply)
24 Months 150 Per Month 300 Down
36 Months 115 Per Month 230 Down
48 Months 95 Per Month 190 Down
54 Months 90 Per Month 180 Down
Building Features
A-Frame Vertical Roof
8' Sidewall sloping to 6'
These are customer supplied photos
All structures must be built 18" away from any other structure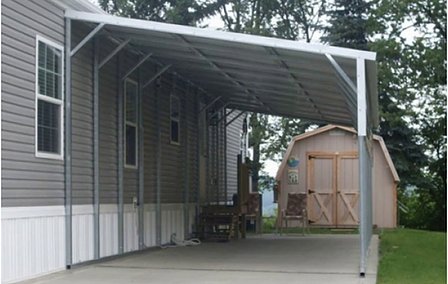 #18 12x31 Lean Too Carport
$3,430 plus tax
Rent To Own Pricing
(RTO Fees Do Apply)
24 Months 230 Per Month 460 Down
36 Months 180 Per Month 360 Down
48 Months 145 Per Month 290 Down
54 Months 140 Per Month 280 Down
Building Features
A-Frame Vertical Roof
9' Sidewall sloping to 7'
These are customer supplied photos
All structures must be built 18" away from any other structure